Nature Adventures With NC 4-H Camps!
Find this article at:
go.ncsu.edu/readext?734743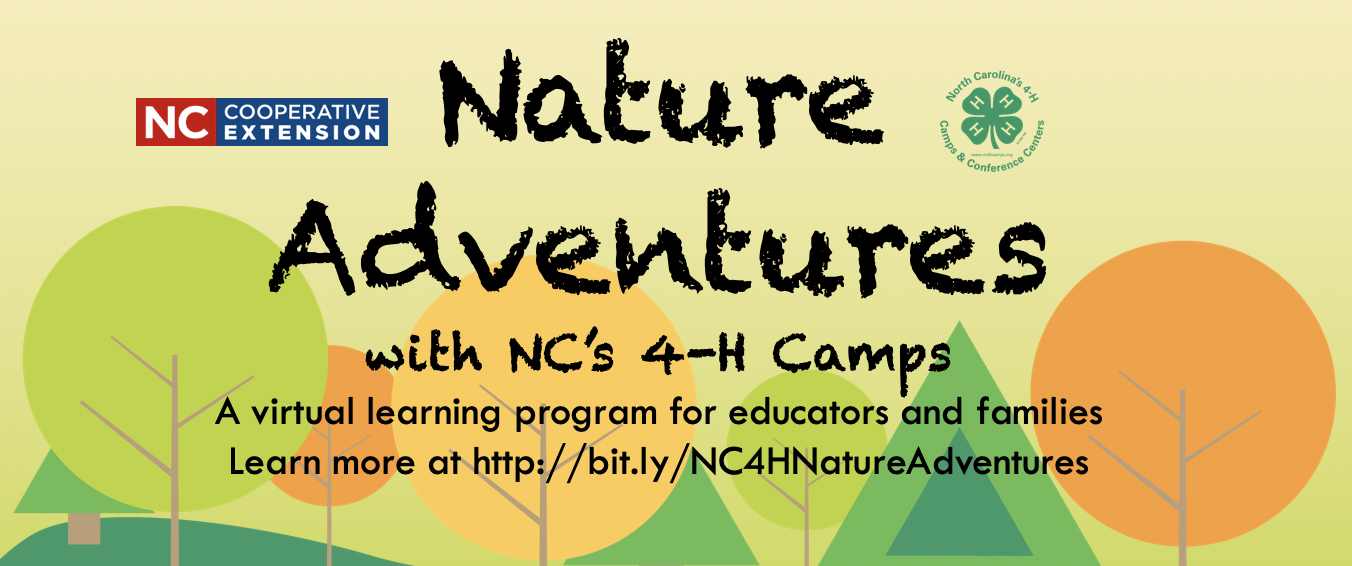 Nature Adventures is a virtual learning program aligned with NC Standard Course of Study teaching standards provided for FREE for educators and families. Review our schedule below. Click on the course to see standards alignments and grab materials lists to participate in sessions. ALL SESSIONS ARE HOSTED ON Zoom.
This is offered for FREE for educators and families but you must register!
You can watch the programs live or get the recordings so that you can go at your own pace after you register.
Opportunities Include:
Beaver Pond Explorations – October 1, 2020, at 9 a.m.
Did you know that beavers are one of the only species that change the physical world around them in order to survive? In this session, students will take a virtual tour of the beaver pond habitat at Betsy-Jeff Penn 4-H Center to learn about this important North Carolina animal and its habitat. Students will explore this decades-old, mature beaver pond habitat, learn how to identify evidence of beaver activity, and discover why beavers are so important to many other plants and animals.
Pine Forest Ecology – October 14, 2020, at 9 a.m.
Did you know that Millstone 4-H Camp is located in one of the most beautifully restored Longleaf Pine forests in the southeastern US? Did you also know that Longleaf Pine forests are home to many rare plant and animal species? In this session, students will explore this unique pine forest ecosystem along with the help of a wildlife expert at Millstone 4-H Camp. Students will explore how and why the Longleaf Pine declined in the 20th century and how restoring these important trees helps many different species.
Stories in the Stars Astronomy – October 27, 2020, at 1 p.m.
Have you ever wondered how the constellations got their names? In this interactive session, students will investigate the myths or stories behind specific constellations in the night sky. Students will work with their own cluster of stars to create a constellation and a story to go with it. Students will learn about current astronomical events, how to locate constellations in the night sky, and explore what they can find in the night sky right now.
Nature Crafts – November 9, 2020, at 1 p.m.
The natural world is all around us. In this hands-on learning session, students will learn about North Carolina birds, toads, and frogs and then use what they've learned to build nature crafts that will help them observe the natural world in real-time. Students will build simple bird feeders and toad homes. Students will then use their crafts to collect data, make observations, and develop inferences based on evidence about the natural world and the species they find there.
Outdoor Survival Skills – November 20, 2020, at 9 a.m.
4-H gained national attention last year when two girls in California who were lost in the woods for several days credited their survival to skills they learned in 4-H. In this interactive session, students will learn survival skills including the Rule of 3, the Ten Essentials, how not to get lost, and how to survive in the wilderness. Then students will apply what they've just learned with a mock survival scenario where they have to make decisions about how to survive. This can be done in groups in a traditional classroom, or individually for virtual classrooms or homeschool set-up.
Sharks Teeth & Fossils – December 8, 2020, at 9 a.m.
Eastern North Carolina is home to some of the densest fossil soils around. In this session, students will learn where and how to find them as well as identify some of the many species that can be found. Students will explore different types of fossils and dive deep on shark teeth specifically. The session instructor will share his personal fossil collection to show and tell what he's found over the last ten years.