It Is Strawberry Season Again!
Find this article at:
go.ncsu.edu/readext?932994
en Español

El inglés es el idioma de control de esta página. En la medida en que haya algún conflicto entre la traducción al inglés y la traducción, el inglés prevalece.

Al hacer clic en el enlace de traducción se activa un servicio de traducción gratuito para convertir la página al español. Al igual que con cualquier traducción por Internet, la conversión no es sensible al contexto y puede que no traduzca el texto en su significado original. NC State Extension no garantiza la exactitud del texto traducido. Por favor, tenga en cuenta que algunas aplicaciones y/o servicios pueden no funcionar como se espera cuando se traducen.

English is the controlling language of this page. To the extent there is any conflict between the English text and the translation, English controls.

Clicking on the translation link activates a free translation service to convert the page to Spanish. As with any Internet translation, the conversion is not context-sensitive and may not translate the text to its original meaning. NC State Extension does not guarantee the accuracy of the translated text. Please note that some applications and/or services may not function as expected when translated.

Collapse ▲
The best strawberries are the ones you pick yourself or buy from your local strawberry farm. These berries will be the freshest you can get, with little or no handling and travel. Nothing beats the flavor and fragrance of fresh-picked strawberries! When you pick your own be sure and pick by pinching the stem of the berry between your thumb and forefinger. This will prevent damage to both the fruit and the strawberry plant. Leaving the caps on helps your strawberries last longer. Also watch for locally-grown strawberries in your neighborhood supermarket during the harvest season.
When shopping for strawberries, select those that are firm, plump, and fragrant and have a bright glossy red appearance. Their fringed caps should be bright green and look fresh. Look for structural integrity. Berries should be firm, but not crunchy. Avoid bruised or shriveled berries or those having a dull appearance.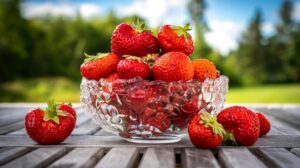 Strawberries do not ripen after they are harvested. Select fruit that's at the right state of maturity — when the berry surface is fully red. This fruit will offer the maximum sweetness and flavor.
Strawberries are best when prepared and eaten in the same day, but if you must keep them longer, store them in your refrigerator. Arrange the berries in a shallow container, separating out any damaged berries. Cover them loosely, and keep at 35 degrees for best results. Store the fruit in the crisper drawer of the refrigerator. Strawberries packaged in closed plastic clamshell containers may be stored in their containers or fruit may be stored in a partially opened plastic bag to maintain high humidity. Strawberries can only be stored for up to seven days under optimum conditions. Keep in mind that shelf-life depends on how ripe the fruit was when purchased or picked. Do not remove the caps or wash the berries until you are ready to use them. When caps are removed before use, the berries lose some of their moisture. Washing early tends to bruise them and the berries lose their freshness.
Strawberry flavor is at its best at room temperature. Remove the berries from the refrigerator an hour or two before serving. To help berries retain flavor, texture and nutrients, avoid washing or removing their caps until ready for use.
When preparing (for whatever use), place the berries in a strainer and rinse with cool water. Never let them sit in water. To remove the caps, give the caps a gentle twist or use the point of a sharp knife, trying not to remove any of the berry. The tip of an ordinary vegetable peeler makes a good tool for capping berries.
Here are a few helpful tips to follow when you pick-your-own strawberries. Dress comfortably. Wear loose fitting clothing. Wear a hat or cap and bring sunscreen. Bring your own containers.
If you plan to spend the day or are not going straight home, take ice in a cooler to keep berries cool. Select only firm ripe berries. Be careful not to remove the tops of the berries. Make an effort to pick every ripe berry on each plant rather than jumping from plant to plant and row to row. The growers will appreciate your consideration and you will reduce the amount of strawberries that are left sitting in the field.
How many are enough? Here are some quick measurement to help you know the yield of strawberries:
1 pint basket of berries = 2½ cups whole berries
1 pint basket of berries = 2¼ cups sliced berries
1 pint basket of berries = 1¾ cups pureed berries
1 pint basket of berries = about 12-14 large berries or 16-20 medium berries
1 quart of berries weighs about 1¼-1½ pounds
1 flat of berries (6 quarts) weight varies from 10-12 pounds depending on the size of the fruit
1½ to 2 quarts are needed for a 9″ pie
1 cup sliced fresh strawberries = one 10 oz. package of frozen strawberries
1 cup of strawberries contains approx. 50 calories.
You have several options for freezing strawberries. Whole berries: Place one layer of clean, capped berries on a cookie sheet and freeze until firm. Remove from cookie sheet, package in freezer bags, and seal. Packing with sugar: Slice berries in halves or thirds. Mix with sugar (six cups sliced fruit to one cup sugar). Allow to stand until sugar dissolves (about 10-15 minutes). Pack the fruit and juice into freezer bags or containers. Leave 1/4-inch head space for pint containers. Packing without sugar: Strawberries may also be packed whole or sliced without sugar or with minimal sugar, but the color and texture of the thawed fruit won't be as good.
Select fresh strawberries not only for their delicious taste but for the nutritional benefits they offer you and your family. Think about it, just eight medium strawberries contain more vitamin C than one orange. Vitamin C helps your body heal, resist infections, and maintain healthy bones, gums, and teeth.
Strawberries are a significant source of fiber in the diet. They are also a good source of potassium and manganese. Strawberries are also rich in antioxidant compounds such as anthocyanin, quercetin, resveratrol, and ellagic acid. Studies indicate that these compounds found in strawberries may help reduce the risk of heart disease, cancer, hypertension, and Parkinson's disease and reduce some of the cognitive declines of aging. There is also evidence that strawberries have properties that may assist with weight loss and with diabetes control. Like other richly colored berries, they are truly a super fruit!
One serving of fresh strawberries (one cup or about 6-9 berries) contains only 50 calories. Note: Frozen strawberries retain all the nutritional benefits of fresh strawberries. Strawberries are virtually fat free, contain no cholesterol and are an excellent source of folic acid that helps the body metabolize protein. You can eat them out-of-hand, on the run. Just wash and bite — anytime, anyplace.
Some fun strawberry facts:
Eating eight strawberries a day has been shown to lower blood pressure and to improve memory and heart health. Not only that, eating strawberries on a regular basis may lower the risk of some cancers and help reduce obesity.
Strawberries provide essential nutrients  and minerals including fiber, potassium,  vitamin  C and powerful antioxidants such as anthocyanins, quercetin and ellagic acid.
The levels of ellagic acid found in strawberries are five to six times higher than in most other fruits and vegetables. Some research shows that ellagic acid seems to have some anti-cancer properties.
Wash. Bite. How easy is that? When you're on the go, take strawberries with you in a plastic container or sandwich bag. You don't even need to keep them cool. Strawberries taste best at room temperature.
Strawberries must be picked at full ripeness. They cannot ripen once picked.
Strawberry Shortcake originated with the American Colonists. It's still a favorite today.
Strawberries are the favorite fruit of Americans — both children and adults.
Strawberries are the only fruit that have seeds on the outside — about 200 of them. Each seed has the potential to become a new variety. Strawberry seeds are all those little bumpy spots on the surface of the berry.
Strawberry is the second most popular natural flavor. Chocolate is number one. Chocolate-dipped strawberries anyone?
For a fast and delicious snack, spread graham crackers with a thin layer of cream cheese. Top with sliced strawberries to add some crunch. If calories are an issue, select low-fat graham crackers and low-fat cream cheese.
Freezing Strawberries:
Freezing is one of the best ways to preserve strawberries. Freezing will retain more of the original flavor, color, texture and nutritional value of fruits than any other home food preservation method when processed correctly. Freezing requires less skill and equipment that other home canning methods too.
According to information from the National Center for Home Food Preservation (NCHFP), berries should be frozen on the same day they are harvested. Select fully rip, firm berries with a deep red color. Wash and remove caps. Do not allow fruit to soak in the water, rather rinse the fruit with cold water.
There are different options for freezing strawberries. You can freeze berries with or without sugar and leave them whole or slice or crush them. The method of freezing is determined by personal preference. A sugar or syrup pack is recommended to maintain the texture and flavor of fruit, but those watching their sugar intake, sugar can be left out or artificial sweeteners can be substituted.
For a whole berry sugar pack, add ¾ cup sugar to 1 quart (1 1/3 pounds) strawberries and mix thoroughly. Stir until most of the sugar is dissolved or let stand for 15 minutes. Put into containers, leaving about ½ inch headspace. Seal, label and freeze.
If whole berries in a syrup pack are preferred, put berries into containers and cover with cold syrup, leaving about ½-1½ – inch headspace. To make medium syrup (30%), dissolve 1 ¾ cups sugar in 4 cups lukewarm water, mixing until the solution is clear. Chill syrup before using. Yield is about 5 cups of syrup.
For unsweetened packs, the dry pack is good. Simply pack the fruit into a container, seal, label and freeze. A tray pack is an alternative that makes the fruit easier to remove from the container. This is the method I usually use. Simply spread a single layer of prepared berries on shallow trays and freeze. After a couple hours, when the fruit is frozen, promptly package, label and return to the freezer. The fruit pieces remain loose and can be poured from the containers and the package re-closed. Be sure to package the fruit as soon as it is frozen to prevent freezer burn.
In addition to a dry pack, unsweetened fruit can be packed in water, unsweetened juice or pectin syrup. The pectin syrup is often used for fruits such as strawberries which retain texture better than if frozen in water or juice. To prepare pectin syrup, combine 1 package powdered pectin and 1 cup water in saucepan. Heat to boiling and boil 1 minute. Remove from heat and add 1 ¾ cups water. Cool. Makes about 3 cups of moderately thick syrup.
Sugar substitutes may be used in any of the unsweetened packs. But remember, while artificial sweetness give a sweet flavor, they do not furnish the beneficial effects of sugar, such as color protection and thickness of syrup. Follow the directions on the container to determine the amount of sweetener needed.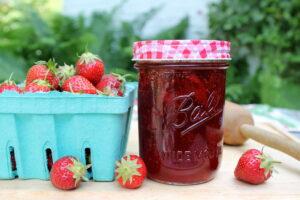 Strawberry Freezer Jam
Preserving Method: Freezing
Makes about 6 half-pint jars
(This simple berry jam tastes incredibly fresh, even in the middle of January)
Ingredients:
8 cups halved fresh strawberries
1-1/2 cups sugar
5 Tbsp. Ball® Real- Fruit Instant Pectin
6 Ball® plastic half-pint freezer jars
Directions:
Pulse blueberries in a food processor until finely chopped, stopping to scrape down sides as needed. Place in a medium bowl. Pulse strawberries in food processor until finely chopped, stopping to scrape down sides as needed. Add to blueberries in bowl. Stir in sugar; let stand 15 minutes. Gradually stir in pectin; stir 3 minutes. Let stand 5 minutes. Spoon into jars, leaving 1⁄2-inch headspace. Center lid on jars. Apply bands, and adjust loosely. Once jam is frozen, adjust bands to fingertip-tight. Store in freezer up to 1 year. Thaw in refrigerator. Refrigerate after thawing, and use within 3 weeks.
NOTE: This recipe may be made with 4 cups of strawberries and 4 cups of blueberries for Strawberry Blueberry Freezer Jam.
Traditional Strawberry Jam
Makes about 8 (8 oz) half pints
Strawberries, lemon juice, Pectin and sugar combine to make traditional strawberry jam. Try out this recipe, then make it your own as you discover new twists to this favorite canning recipes.
5 cups crushed strawberries (about 5 lbs.)
1/4 cup lemon juice
6 Tbsp Pectin
7 cups granulated sugar
8 (8 oz) half pint glass preserving jars with lids and bands
PREPARE boiling water canner. Heat jars and lids in simmering water until ready for use. Do not boil. Set bands aside. COMBINE strawberries and lemon juice in a 6- or 8-quart saucepan. Gradually stir in pectin. Bring mixture to a full rolling boil that cannot be stirred down, over high heat, stirring constantly.
ADD entire measure of sugar, stirring to dissolve. Return mixture to a full rolling boil. Boil hard 1 minute, stirring constantly. Remove from heat. Skim foam if necessary.
LADLE hot jam into hot jars leaving 1/4 inch headspace. Wipe rim. Center lid on jar. Apply band until fit is fingertip tight.
PROCESS in a boiling water canner for 10 minutes, with water 2 inches above jars. Remove jars and cool. Check lids for seal after 24 hours. Lid should not flex up and down when center is pressed. If not sealed refrigerate. Sealed jars should be kept in dark storage.
Easy, Eggless Strawberry  Ice Cream:
makes 8 servings
2 cups whole milk
2 cups heavy cream
1 cup white sugar
1/4 teaspoon salt
2 teaspoons vanilla extract
2 cups mashed fresh strawberries
2 drops red food coloring(optional)
In a large bowl, combine the milk, cream, sugar, salt, vanilla, strawberries, and food coloring. Pour the mixture into the freezer bowl of an ice cream maker, and freeze according to manufacturer's directions.
Fresh Strawberry Dressing Recipe
Prep Time: 5 minutes  Total Time: 5 minutes Yield: 1 cup Serving Size: 2 tbsp
1 cup fresh  strawberries
1 tbsp sugar or sweetener of choice
1 tbsp balsamic vinegar
1/4 tsp salt
2 tbsp olive oil
Mix berries with vinegar and sweetener. Let sit for at least 15 minutes. Add salt and olive oil and liquefy in blender or food processor. Refrigerate. Good on salads, fruit, ice cream (no kidding!), and Greek yogurt.
Sources for this article NC Extension Food and Nutrition, National Center for Home Food Preservation. For more information about the Foods and Nutrition please contact Louise L. Hinsley, Extension Agent, Family Consumer Science at the N.C. Cooperative Extension, Beaufort County Center , 155 Airport Road, Washington,  252-946-0111