It's Not Too Late for Fall Vegetables
When Can I Plant Fall Vegetables?
Just like our grasses, we have warm and cool-season vegetables. Warm-season vegetables will only grow during the spring and summer months. Typically, warm-season vegetables are planted by seed or transplant after our last frost date, on average around April 15. To some folks this is not a very good day because federal taxes are due, but to gardeners, this triumphant day marks the beginning of a new season! Plants can be started much earlier indoors by planting inside around mid-February. This allows for transplanting larger plants near the 15th of April for an earlier harvest date.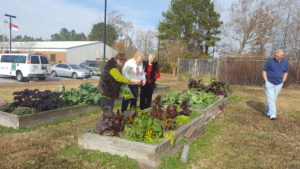 Fall vegetables, being cool-season crops are much different. Cool season crops can be grown in the late winter through early spring and from late summer through early winter. In the spring, plants should be planted by February 15 for most cool-season vegetables. In the fall, the timing varies depending on whether you are planting from seed or using transplants. If using seed, vegetables seed should be sown in late July into August for most crops. Some of the quicker growing crops such as arugula, can be planted as late as September and still have time to harvest before the weather turns too cold. Transplants should be planted no later than September 15th to ensure a good crop. Plantings of larger, one-pick type crops can be staggered to extend the harvest season.
North Carolina State University has a great planting guide for both warm season and cool season vegetable crops that includes planting dates, recommended planting type (seed or transplants), days to harvest, planting depth and planting space. The "Vegetable Planting Guide for Eastern North Carolina" can be picked up at your local extension office. Some examples of cool-season crops are different types of lettuce, broccoli, cauliflower, Brussels sprouts, collards, kale, radishes, rutabagas, swiss chard, turnips, and cabbage. There is cultivar information available at the local extension office as well.
If you want to be a successful gardener, the first step is always to get your soil ready. This is much, much easier prior to planting your vegetables! Get your soil samples completed and sent off to the North Carolina Department of Agriculture and Consumer Services to be tested. They will send a report back that will recommend fertilizer and tell you what the pH is in your garden area. If you do nothing else to your garden, make sure that you know the pH of your soil. The macro- and micronutrients in your soil are only available to plants within a narrow band of pH. Outside of this range (too high (basic) or too low (acidic)), your plants are going to be starving and you might be too! Plants are not going to produce very well under these conditions, regardless of how much fertilizer you apply!
Anytime you are buying plants, check them for vigor and disease. A good season depends on the health of your plants at the beginning of the season. Buy your plants from a reputable nursery or grow them yourself from seed. Make sure you have full sunlight and don't forget, plants need about an inch of water each week.
Register for the "What You Need To Know So You Can Grow" educational series taught at the Beaufort Extension Center this October to learn more about Soil, Growing Vegetables, Growing Fruit, Turf Management, and Ornamentals. This series will be taught on Thursdays beginning October 4, from 6:00 p.m. – 8:00 p.m. The cost is $10.00 per class, those attending all of the classes will earn the Blacklands Area Friends of Horticulture "Homegrown" Certification and a free Gardening Guide published by the Extension Master Gardener℠ volunteers in Beaufort County.
If you have a question to submit, please email to Gene Fox at gene_fox@ncsu.edu. Having trouble with growing in your home landscape, call the Extension office and speak to an Extension Master Gardener℠ volunteer (EMGV's), Mondays and Wednesdays between 10:00 a.m. and noon at (252)946-0111. The EMGV's will be at the Washington Farmers' Market on Saturdays throughout September to answer questions and diagnose problems. Learn more on Facebook at the Blacklands Area Horticulture page or visit the Extension Office located at 155 Airport Road!