There's Still Time To Register! Master Gardener Volunteer Training 2018 – Beaufort County
Must Register by February 9th to get accepted into the program! Classes are set to begin February 13th and will go from 9:00 a.m.-12:00 p.m.
Are you an avid gardener? Do your friends come to you for gardening advice? Have you heard of the Extension Master Gardener Volunteer program? If you answered yes to any of these questions, We Want You!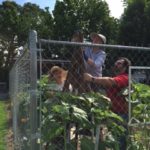 Extension Master Gardener Volunteers are an elite group of individuals that receive comprehensive educational, hands-on, classroom training from the North Carolina Cooperative Extension Service in consumer horticulture. Volunteers receive training, pass a comprehensive exam, and then complete a forty (40) hour internship under direction of County Extension Agents to earn their Extension Master Gardener Volunteer certification. Volunteers are then asked to give back to the community by disseminating research-based, unbiased, educational material to the general public through speaking engagements, educational classes, EMGV Hotline, farmers markets, and other Extension sponsored events.
If you are interested and think that you have what it takes to become an Extension Master Gardener Volunteer please call (252/946-0111) or email (gene_fox@ncsu.edu) Gene Fox today and fill out an application. Here is a link to the Beaufort 2017-18 EMGV app for download. Please call Gene Fox (252/946-0111) or an Extension Master Gardener Volunteer in Beaufort County (252/946-0111) for more information.